What is Flawless Recovery?
Flawless Recovery is a luxury service, not a medical service or medical provider. We are here to offer a clean and comfortable shared living space to assist guests with physical/mental recovery following cosmetic surgery procedures. Our mission is to provide a safe and comfortable environment for clients to recover after having plastic surgery in South Florida.
What To Expect?
TRANSPORTATION
Pick-up and drop-off from pre-op and one post-op appointment.
Round trip transportation from and to airport.
Day of surgery pick-up and drop-off.
MEAL PLAN
Three daily nutritious meals, snacks, beverages, and fruits.
ITEMS FOR SALE
BBL pillows, lipo foams, compression socks, abdominal boards, fajas, and back boards.
ADDITIONAL AMENITIES
WiFi, Netflix, laundry services, and medication pick-up.
-
As a part of the flawless experience, our recovery home is equipped with emergency backup power.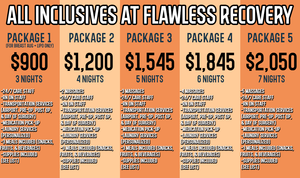 You can learn more about our Terms and Services
Feel free to call us if you have any questions (305) 414-4780
Testimonials
Staff was very professional, and sweet! Everything was on point, and very relaxing! I will be referring post op patients to Flawless Recovery.

Jessica Ramirez
I stayed for 7 days, and everything went smoothly. From pick up, to drop off. Not to mention, staff was very kind. I felt at home at Flawless Recovery.

Nancy Gates
This is my 2nd stay at Flawess Recovery, and I'm completely satisfied with the customer service, and what FR has to offer! Thank you again!

Amy Lewis